Dog's Way Home, A
PG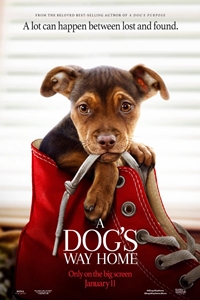 play trailer
▶


Play Trailer
A Dog's Way Home chronicles the heartwarming adventure of Bella, a dog who embarks on an epic 400-mile journey home after she is separated from her beloved human.
DetailsDrama
1 hr. 35 min.
Opened January 11th, 2019
Rated PG for thematic elements, some peril and languageCastAshley Judd, Alexandra Shipp, Wes Studi, Edward James OlmosDirectorCharles Martin SmithWriterW. Bruce Cameron
Today's Showtimes
No showtimes available
on this date.